Ray and I enjoyed a pretty quiet day. Ray used the hot tub and just fussed around a little with some chores. We were saving our energy to go downtown to Fremont Street at night for the lights. Because I had gone there a couple of days ago to check where to park we knew where to go later today.
Ray and I headed out at 5 pm and parked by the Downtown Container Mall as planned, as it was easily accessible and were able to wander through it so Ray could see it. Certainly more people here now than 2 days ago at noon. Quite the happening place. We will take more pictures of this once it is dark for better lights on the way back to the car.
After snapping a few pics we were off down the street for the "Fremont Experience". It was just starting to get dark so we walked the 2 blocks of the undercover area scoping out somewhere for dinner and where to get the best pics of the lights. This area sure gives you the "Vegas" feel with all of the half naked people posing for pictures, (lots of girls with just pasties on!) down and out people wanting money, people and more people everywhere with very loud, loud music. Quite the experience.
We decided to have something to eat at Mickie Finnz Fish House which had outdoor seating to watch all the people going into the Heart Attack Grill across the street. Ray had a fish taco that was pretty good and I had a burger which was just okay. There was also a guy inside playing guitar competing with a guy outside playing "plastic bucket drums". The guitar guy was much better! :)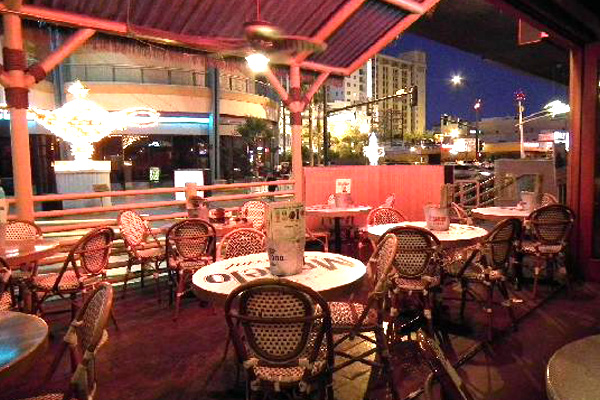 (from google)
Shows up much better after dark so we took another picture.
Entrance to the Fremont Street Experience
The lower zipline ... $25 per person and only 1/2 the distance of the upper zipline at $45 per person that we caught on the video Ray made.
Yup, lots more people.



We did not take any pictures of naked people ... they also wanted $$ if you did!
One of the stages with a Band on Sunday Night
One of the "more dressed" ladies on the street she was actually wearing a top!
The zipline overhead was very busy and the 7pm show with Heart overhead on the huge 2 block screen was amazing. Ray took some pictures as well as some videos. (note the Heart Video is over 6 minutes so if you have limited data, upload when you have free wifi)
Walking down the street through the Fremont East District back to the car, Ray took some pictures of the lights.
When we reached the Downtown Container Park, where the car was, the Preying Mantis was playing a song and shooting flames! Cool.
This video is about 2 minutes long
Monday morning after checking his pictures, Ray was a little unhappy so he planned to go back tonight by himself to take some more with his tripod. Monday was a cleaning and cooking day for me. It was cloudy and windy all day so a good day for slow cooker short ribs, yummm, also muffins for Ray. We ate early so Ray could go back to Fremont for some more pictures/videos. He was only gone for a short while, long enough to see the 7 pm show again on the big screen and the one of the Preying Mantis at the Container Park.