Thursday, June 29th
We made it home by 10:45 am after our visit in Nanaimo. The roofers called and would not be arriving until after 1 pm to "load the roof". Found out that this means that they would be hoisting up most of the roofing materials to the roof so it would be handy as they work. Here are the before pictures of the roof. Apparently there is 4400 sq feet of roof to do.
All ready for the crew tomorrow.
Friday, June 30th
The crew arrived at at 9 am and by 9:30 there was lots of banging and scraping as they started with the back quarter of the roof. Surprisingly there were only a few spots where the slats had rotted. Most of the underlying wood under the shakes was fine. They were very appreciative of our shade sitting areas under the trees in the front of the house to cool off.
After they finished papering and shingling this section they cleaned up all this debris, putting it in the dumpster in the front of the house and will come back Monday to begin again. They do the roof in sections so there is no problem if it should unexpectedly rain. The work should be complete by next Friday. Fortunately we did not have to move the motorhome, just pull in the passenger side slides while they work. With all of the shaw cablevision cords threaded through the slides and power cord we would have had to move into the house and we prefer our own "home".
Ray went into Burnaby to check on his Mum. She is doing much better now that they have her back pain controlled. Ray said she was "quite fiesty" and is eating a lot more solid food. While we were over on the island we had a call from her Occupational Therapist regardging an electric wheelchair and a 4 chamber air cushion for her to sit on. They feel a lot of her right side rib pain is caused by sloughing over to the left ... her weak side, from the stroke and that if they can get her sitting up straighter that will help. By blowing up the "butt cushion" higher on the left should help her sit straighter. Fortunately the company we are going with will bring a new wheelchair on Tuesday for her to trial to see if she can manage an electric chair and a new seat cushion. Discount Mediquip is really good about not taking any money until she is satisfied with her stuff. The air bed is working well for her though. Ray has also arranged for physiotherapy for her 3 times a week at her cost. Her left arm is swelling from lack of use and causing her pain so it needs to be worked with even though she cannot move it. I am positive that the next few weeks will see a much greater improvement for her. Hopefully her diet can be increased and that her swallowing becomes better.
Saturday, July 1st
As it is our 40th anniversary tomorrow and as it is my day to cook for Dad, I decided to make a really good "eating day" for Ray and I today instead. First up was Finger French Rollups. They kind of tasted like a cinamon bun.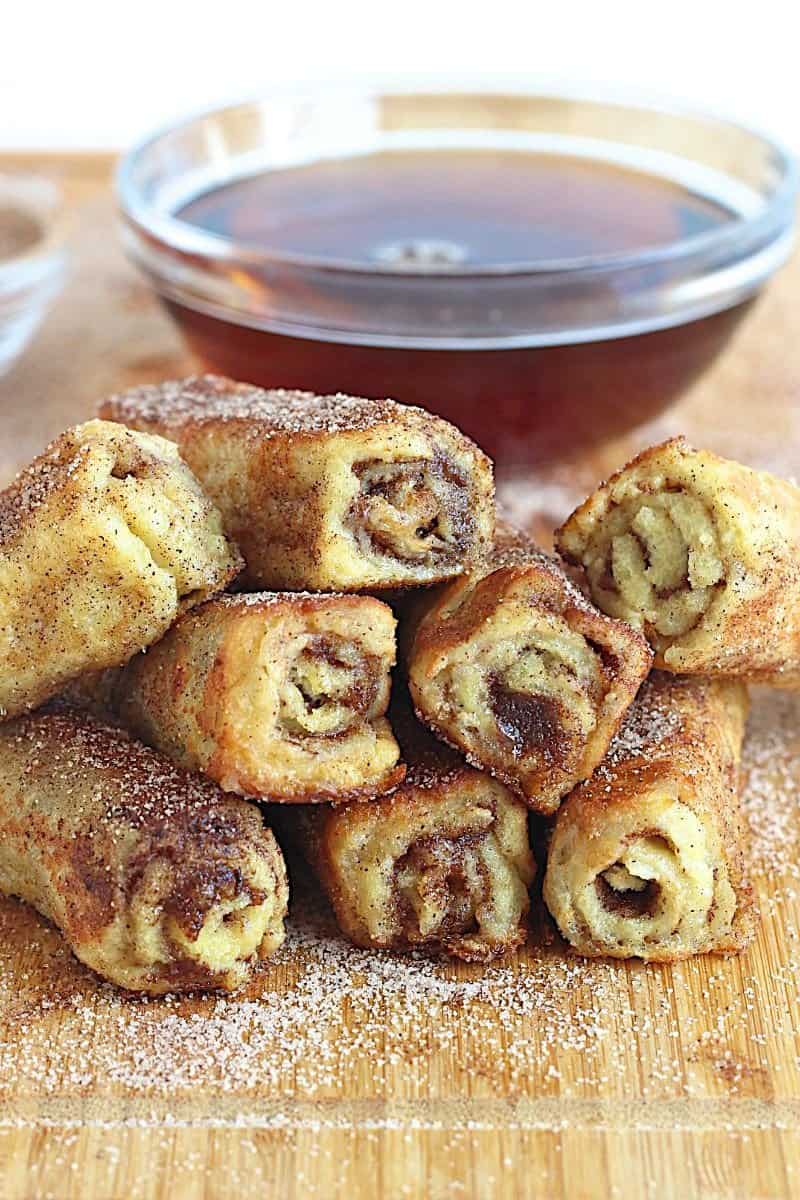 After tidying up after breakfast I went to the grocery store for "inspiration". Ended up at Thrifty's. They had most of the seafood on special so of course I bought a few selections. As I cannot eat a lot at once but love tasting everything, I decided on a progressive dinner. First up was lunch. I made us Margaritta and Proscuitto mini pizza's on the barbecue.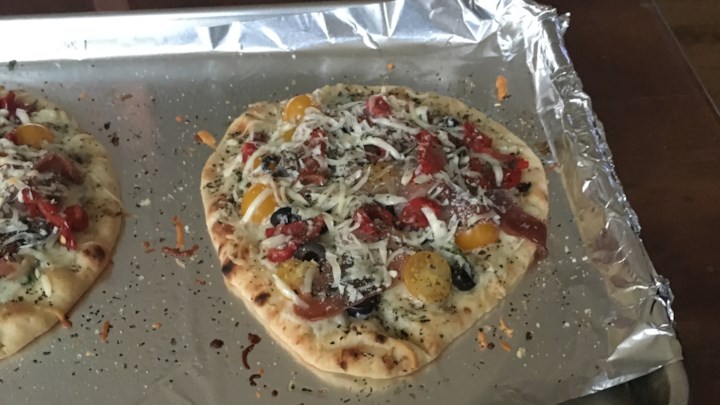 After lunch I prepped the rest of stuff for our Anniversary Dinner so it was easy to cook and serve and I could spend the afternoon relaxing in the sun with Ray.
Anniversary Menu
* Lox on cream cheese
* Pear and Walnut Salad
* Candied Sockeye Salmon bites
* Mussels in Wine with Pita Bread dippers
* Steamed Dungeness Crab with Bacon and Puff Pastry Wrapped Asparagus
* Homemade Blueberry Tartlets
We started eating our progressive dinner at 3 pm sitting outside enjoying the sun. We moved inside at 5 pm as it became cooler outside and continued eating until about 7 pm. Yummm. Beats going out to a restaurant for quality and quantity. Just wish I had a maid to do the dishes! lol
Sunday, July 2nd
Happy 40th Anniversary to Us! My day to cook for Dad, Larny's day off.
This morning after making sure Dad was set up for a few hours, Ray and I went into Burnaby to visit Mum at the carehome. We also brought Freya to come and see her as per her request. Unfortunately she was not doing as well today. Her left arm is hurting her. It is swollen from lack of use. Ray has arranged for physiotherapy starting this week so hopefully the swelling will go down. After an hour it was back to Dad's in Surrey to drop Freya off so Ray could take me out for lunch in White Rock.
It sure was a lovely day with lots of people out and about. We were fortunate to get a parking spot somewhat close to the restaurant called "Jans" that Ray chose. I ordered seafood crepes and Ray their housemade pulled pork sandwich. The food was excellent although service was a little slow.
After a great lunch we strolled along the Promenade for a short ways enjoying the views.
White Rock Pier
Lots of people enjoying the warm sunny day, lots of classic cars cruising.
We even managed to see a train come through.
The famous White Rock
Back at Dad's by 2:30 pm to check on him again. The rest of the afternoon we spent outside under the trees.
That pretty much sums up this week.