Tuesday, August 1st
Well the hotel part of our celebration tour is over and it's time to pack up and head out to Squamish to spend the night with Garrett and Kat. We've had a most amazing time touring around. Ray and I could have easily spent another week here in Whistler to see more things but at a much slower pace but our pocketbook sure could not stand the pain! His back is pretty sore but this was once in a lifetime opportunity for us to see the sights and partake in the fine dining scene. Today we are back to reality and our normal going out budget ... beer and lunch at a pub! Thank goodness we took our pictures the previous days, as the smoke from the forest fires in the interior of BC have now made it's way into Whistler and Squamish. It's so thick it looks cloudy out. You can even smell the smoke as well as see it hiding the mountain tops.
Ray and I were all packed up by 10 am checkout time and once we loaded the car we walked back to Crepes Montagne for breakfast. I had fresh fruit and Ray had crepes. I even had fresh squeezed apple juice for the first time, delicious. Tasted like I bit into a Granny Smith apple, the colour was a bit gross though, it darkened as it sat there in the glass.
On the way back to the hotel Ray managed to get a shot of this wonderful waterfall/pond right beside our hotel.
By 10:45 am we were on our way to Squamish. Garrett was working from home today and also worked most of Saturday so he was able to take a few hours off. Kira, Garrett's dog could not figure out "where was Freya". Garrett had to open all of the car doors so she could look before she believed us that Freya was not here!
After unloading our stuff we all headed to the Britania Mine Museum. All of us have passed by this museum many times and not gone in. Garrett and Kat pass it every day going into town to work. Anyways Garrett, Ray and I all enjoyed the 45 minute mine tour as well as visiting all of their out buildings.
Lime Tank
Make a point of panning for gold. You find it, you keep it! Everyone can take part. Gold-panning troughs are set at different heights. That way, both young and old, can dip in and try their luck. This is gold panning the fun and easy way.
This originally was the Assay Office and then it became the First Aide Building.
Our 1908 Machine Shop is also home to a number of historic pieces of equipment, from our restored ambulance car, to the man car that squeezed sixteen miners into a space about the size of a small family car.
The Machine/Tool Shop
Step in and explore our many hands-on exhibits. Especially designed for youngsters, there's our Kids Playce display. Be sure to catch Groundbreaking, our award-winning film that traces Britannia's mining heritage and its successful environmental clean-up. Visit our Mineral Gallery. Gaze over displays of gold and fluorescent minerals. With our touchscreen interactives, you'll gain a new perspective of what mining means to our everyday lives. Add to that by getting to know the personalities behind Canadian mining in our Mining Hall of Fame. They explored underground yet their efforts went above-and-beyond. Learn much with one touch.
All of these things on this mobile are made with some kind of mineral that is obtained through mining.
Administration Building that now houses various exhibits including a lot of pictures taken during the time that the town was booming.
Britannia A to Z Historical Exhibits
Within the walls of this lovingly-restored heritage building, you'll grasp what life was like here. It's full of amazing stories and archive photos. The community was isolated, yet families were active and innovative. Learn about the annual Copper Queen pageant. The original throne is still here. Take a seat for a great photo-op. Children are welcome to crawl into our kid-friendly tunnel.
An example of how large the rock moving equipment was.
Picture taken from the platforms on the way up to the entrance to the mine.
Look how smokey it is.
Ray's pictures of going into the mine did not turn out as it was too dark and we were moving so here are some I got from Google. The train ride is quite short, more of an example. After the 5 minute ride you get out and walk the rest of the tour which is also quite short. It's sure damp inside the tunnels showing the conditions that the miner's worked in.
Underground Tour
Take a trip similar to miners in 1914. Climb aboard our mine train and chug into this early haulage tunnel. Inside, tour guides describe early mining efforts with actual working drills and a mucking machine.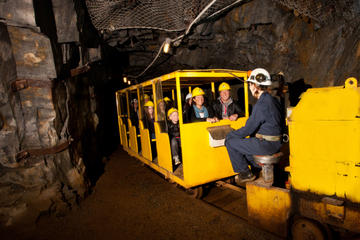 Ray's picture above.
Picture by Google of a Mucking Machine


These next few pictures were taken at the exit of the mine tour.
Once down to the ground level we carried on into ...
It's this impressive building that's responsible for us being declared a National Historic site. A landmark on the Sea-to-Sky Highway, it was once considered the heartbeat of the Britannia community. Here, ore was processed. So come in and look up. Visitors never fail to be wowed by the cathedral-like industrial interior.
Anyone for twenty flights of stairs??
All in all it was quite interesting and worth the visit.
After the tour we headed back to Squamish and stopped for a quick lunch before heading back to Garrett's so he could get back to work.
Kat came home early so we had a great visit. At 6 pm it was off for dinner at the Howe Sound Brewery. Garrett and Kat picked up the check, thanks guys. Back at their house we gabbed and watched some funny episodes of the Hot Wing Challenge. Off to bed by 10.
Wednesday morning we were all up at 6 am. Ray and I drove Kat to Park Royal in West Vancouver so she could catch the bus into downtown and then we carried back on Hwy 1 to get back to Dad's. The smoke was even heavier in the air today than yesterday. It sure is nice getting on the road by 6:45 as the traffic all the way was really light in our direction of travel. Once off the freeway we stopped for breakfast in Cloverdale to prepare us for the busy day waiting us at home.
This whole trip has been fantastic with great weather, great food and great scenery. We could not have planned it any better if we had tried. What a great 60th birthday and 40th anniversary adventure that we will not soon forget. Now it is back to reality! What do you mean I have to cook dinner!