Sunday, October 15th continued:
I gave Kolab Canyons it's own post as there are so many great pictures, hard to choose just a few.
As mentioned in the previous post, Ray drove back to Kolab Canyons at 4 pm to take his photos. He did relax for several hours this afternoon, "assuming his position in his zero gravity chair" in prepartion of going out for his pictures later. He was back in time for dinner so not a very long excursion. After dinner he layed down for the rest of the evening to rest his back. Breaking the trip into 2 short segments certainly helped.
Below is a description of all of the rock layers found in Zion National Park. These layers are in the whole Escalante Grand Staircase, and this diagram really explains it well.
"Most of the rocks in Zion National Park are sedimentary rocks –made of bits and pieces of older rocks that have been weathered, eroded, and deposited in layers. These rock layers hold stories of ancient environments and inhabitants very different from those found in Zion today. In this distant past, Zion and the Colorado Plateau were near sea level, and were even in a different place on the globe—close to the equator. The rock layers found in Zion today were deposited between approximately 110 –270 million years ago –only in recent geologic time have they been uplifted and eroded to form the scenery of Zion National Park.(from Google)"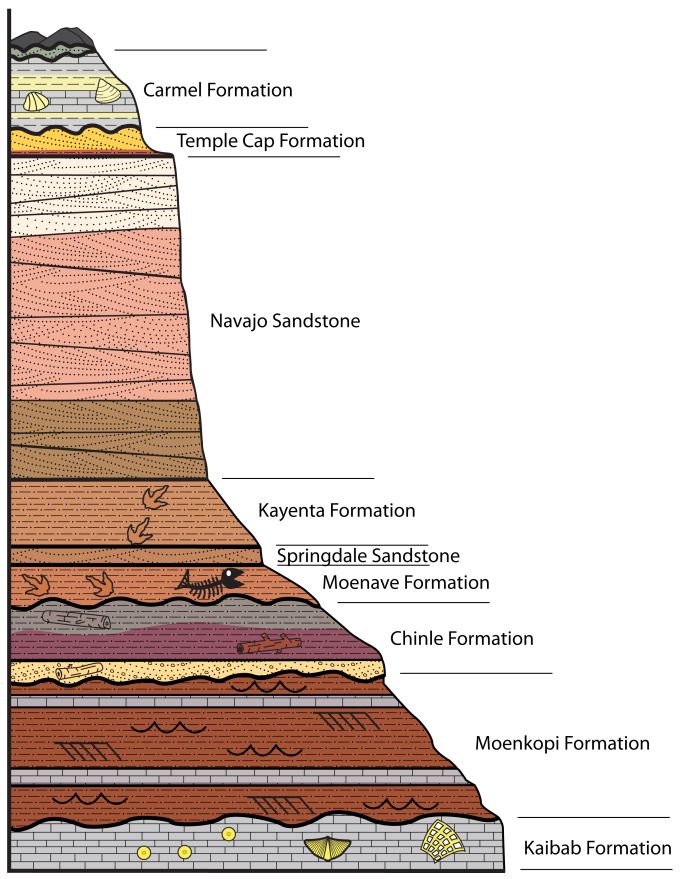 * Navajo Sandstone records the movement of sand dunes.
* Kayenta mudstone features dinosaur tracks - this we found at the Dinosaur exhibit in Parowan Gap.
* Lower Moenave deposits testify to poolilng waters.
* Chinle Formation shales are soft and contain petrified wood - as found in Escalante Petrified Forest SP
* Shinarump Congolomerate is composed of varied sizes of eroded Moenkopi rubble - also what we found in Parowan Gap Dinosaur exhibit.
* The Moenkopi Formation records a shallow sea withdrawing, so the marine fossils differ in its bottom and top layers. (from Zion National Park Brochure)
So now for Ray's beautiful pictures.
The drive into this end of Zion National Park is only a five mile scenic drive. Here is the start of the access road.
Once you keep going uphill through the first few canyons you get to the views of these peaks.
This picture shows the peaks up to Timber Top Mountain.
Horse Ranch Mountain
Shortly after this he came upon some horses waiting to get loaded after a trail ride.
Next up views of Paria and Beatty Points. (Paria on left, Beatty on right)
Beatty and Nagunt Mesa
Further along is Timber Top Mesa which also has the "Hanging Valley"
The hanging valley.
Hanging Garden close up
The last point is the Shantavi Butte that had a portion of it collapse in 1983.
Horse Ranch Mountain and Paria Point
A fabulous short scenic drive. Glad we did not miss it.
Monday, October 16th
As predicted today was much warmer at around 72F. Ray and I spent most of the morning working on the blog and pictures. After lunch we finaly wandered outside to enjoy the sun. I made pork ribs in my InstantPot and finished them on my makeshift charcoal grill. Delicious.