Tuesday, March 14th - The worst travel day ever all winter!!!!
Jacks up by the ripe old time of 10 am (time change you know!) We wanted to miss the San Jose morning traffic anyways and made our way up Hwy 1 and the GPS said
"

Continue on

CA-1 N

. Take

CA-17 N

,

I-880 N

,

I-680 N

,

I-80 E

and

CA-113 N

to

E Main St

in

Woodland

. Take exit

37

from
CA-113 N".
The traffic until we got past Santa Cruz was bumper to bumper and slow. Once on Hwy 17 it was better but that highway is very narrow and windy and people refuse to let you in. With the heavy traffic we were stuck behind slow moving trucks. Ray was very frustrated today with all of the inconsiderate drivers. We almost got hit twice! This unfortunately was the norm until we got onto the I-680 and it was better. The 3 hour drive felt like forever with all of the traffic and very bumpy highways. I had things move that have never moved before! Anyways we are now all tucked in for the night at the Woodland Walmart. Apparently you are not supposed to stay overnight here now but unless someone tells us personally we are parked. I did purchase the equivalent of one night at $50 in the store anyways. There are 2 other motorhomes here as well. Ray has a plan B though, the building across the road has a large empty parking lot and the building is still empty after 2 years so that is where we will move if they kick us out tonight. Fingers Crossed!
Well at 5 pm security did come and said the new manager decided to eliminate overnight parking. The guy said he was about to call the cops on one of the two rigs as he refused to move overnight. Apparently the truck drivers caused previous problems, I'm guessing garbage, so across the road we went. There are several homeless people we noticed here, so we parked away from the buildings close to the road. We will have a somewhat uncomfortable night. Car is attached, jacks are not down and we will pull in the front slides before bed ... just in case. As Ray pointed out we have stayed in the Walmart parking lot 100 feet away 2 years in a row and no one bothered us but we will strike this Walmart off the list for the future.
Oh No!
The owner of the vacant building and lot came by at 8 pm and suggested we not stay. The city has wanted him to tear down the buildings to get rid of the homeless problem and apparently the 10 or so people who camp there get quite unruly and the cops are there all the time! The owner is waiting for his "credits in writing" from the city so he does not have to pay any assessments etc before he tears down the buildings. He will start building a 7-11, gas station and Wendy's before he tears down the buildings. Fortunately I had everyone fed and everything washed and put away in the event we had to move. So at 8:30 pm we were on our way again, 20 miles down the road to Plan C, the Pilot Travel Centre in the dark which is something we avoid. When we arrived at the Pilot Travel Station in Dunnigan, overnight parking lot of 140 some odd sites were all full ... we carried down the road a short ways and ended up parking in the Ritchie Bros. Auction House lot. At least we felt safe but what a noisy night with all of the truck generators going all night. We were in bed by 9:30. What a day! It was so hot out but we had to keep most of the windows closed and just the roof vents open. We all kind of cooked until after midnight when it started to cool.
Wednesday, March 15th - Seven Feathers Casino, Canyonville
With it being so noisy I hardly slept. Ray did not have any problem though! I was awake at 4 am and Ray was up at 5. We were back on the road by 5:30 am. We did not want to get into trouble parking as there was a sign knocked down "No overnight parking"! I think this is the earliest we have ever travelled barring catching a plane or ferry. Three and a half hours later we arrived at our overnight spot, the Yreka Walmart. Being only 9 am we looked at each other and decided to carry on as his back was OK so far. (This place would be okay to stay for future reference.) Ray went in to the grocery store and bought coffee and some donuts to carry us through another 3 hours to Seven Feathers Casino in Canyonlands. Ray and I had chosen "free" places to stay on the way home but with yesterday's fiasco and the long drive today I knew a good hot tub was in order for Ray to survive to drive another day. Two days ago my right knee was kind of bothering me, slept funny or something. It ended up getting much worse last night overnight so I could hardly walk in the morning. (My crutches came out of the basement!) For some reason I have pulled a muscle behind my right knee so the hot tub sounded pretty good to me too. The drive today was quite easy with light traffic and just overcast skies. The Siskiyou Pass was fine, the coach handled the grades with no problem and very little braking so making it a much easier drive for Ray, especially with the light traffic. Even Freya was out of sorts today until we reached here. She did not appreciate yesterday's ups and downs either.
Ray and I arrived at Seven Feathers just before 12:30 pm and by 1 pm we were in the hot tub. Ahhhhhh. Ray's back felt much better, my knee was able to bend.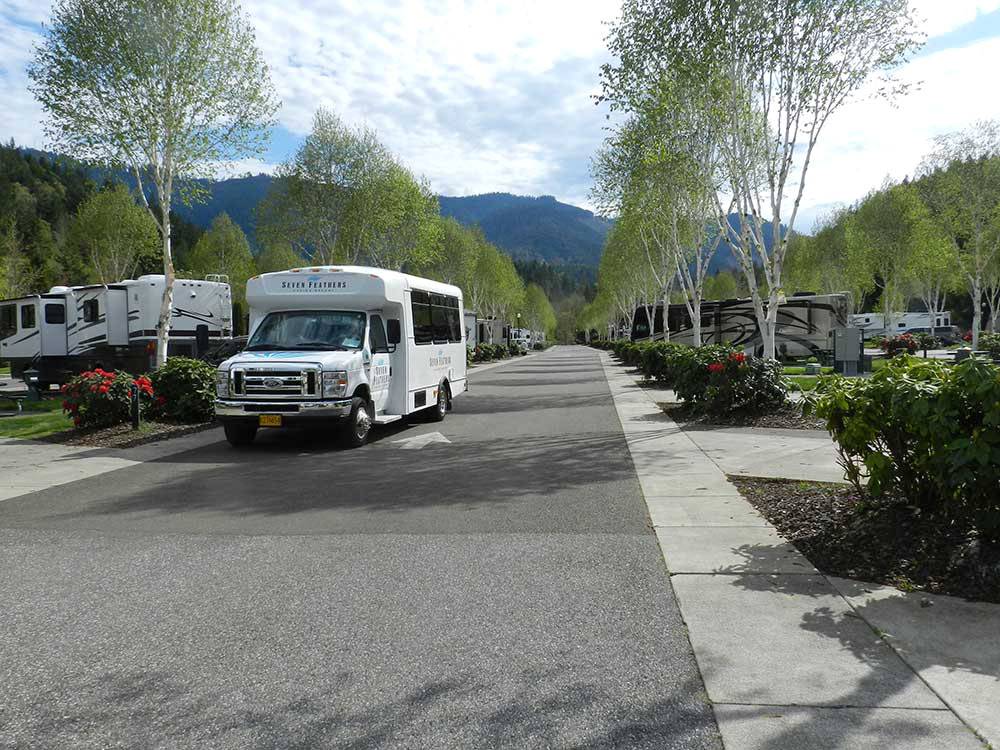 Picture from Google
This is a lovely RV Resort. The RV spaces are large and the landscaping is very pretty. All for a price... $46 with Good Sam discount. Love the pull throughs though.
Picture from Google
After Ray took Freya for her second walk we took the shuttle to the casino for a light lunch. They have a Bbq Buffet for $7.99 tonight so we shall go later to that. Once back from lunch Ray and I both laid down for an hour's nap. Looking forward to dinner later, another hot tub and then an early night. After we were all set up it started to rain and continued all night.
We shuttled back to the casino at 7pm and were told that it was an hour's wait for a table at the buffet so we sat ourselves down in the lounge, had a beer and listened to a jazz group of 7. One lady from the audience was dancing in her wheelchair and another lady who was 88 years old, danced with the lead singer. An enjoyable way to spend time while waiting. Ray and I actually did not get to sit down to dinner until almost 8:30. Not happy campers! They did not page us and there were at least 20 tables empty when Ray went to check. Dinner was just okay, nothing special, so fortunately it was not too much money. Too late for a hot tub now. We watched a short TV show and then went to bed.
Thursday, March 16, Eugene, Valley River Centre Mall
I slept in until 8 am after the long day yesterday, and lack of sleep the night before. Fortunately my knee is much better today so the crutches are back in the basement! After a couple cups of coffee and a bowl of cereal, we went over for a final hot tub before hitting the road. Once back from the pool it was time to shower and stow everything. We fuelled up and filled the DEF tank as well, as their fuel prices here with the players card was very reasonable. It was a nice, short hour and 40 minute drive to Eugene with the sun trying to peak out. We arrived at noon and after Freya had a walk it was off to the nearest Brew Pub. We chose the Steelhead Pub. Great beer and great food.
Ray took Freya for another walk along the river and apparently she was ahead and started to bark at something and then came running back to Ray. He went to look to see what she was barking at and it was a huge rat called a nutria. So much for Freya protecting us! You see these rats in shows like Duck Dynasty and Swamp People. Apparently they have become an invasive species here in Eugene. What a huge rat. This picture came from the Eugene Newspaper! Glad I did not see it.
"
They are what looks to be a cross between a beaver and a rat. The nutria are an herbivorous, semiaquatic animal."
Tonight for dinner, we bought some fresh crab to cook up ourselves a feast! The Fishesrman's Market was featured on Diners Drive-ins and Dives some time ago and you can either eat in or buy fresh fish to take home.
Yummm! More than we could eat at once so we have 1 crab left to eat tomorrow.
Friday, March 17
Woke up to cloudy skies with rain imminent. This will be a rest day for Ray and I before heading to Tacoma tomorrow to visit with Ray's sister and husband. As we had the generator on I made Pecan Date Muffins for our travelling breakfast for the next few days. All in all a very quiet day.