Marble River, picture taken from the bridge.
Friday, June 21 we all decided to check out Port Alice. Jason and Kristi took Dale and Nadine with them as they were going to golf on the course at Port Alice. Ray and I took our own vehicle as we were not staying as long.
First Ray and I stopped at the Marble River, a beautiful fishing river according to Jason.
Next we all met up in Port Alice and the only place we could get lunch is at the grocery store. lol They made us hamburgers and fries in the deli department. You sure could see that with the pulp mill shut down that the town is dying.
"
Published Thursday, February 28, 2019 4:51PM PST
Last Updated Thursday, February 28, 2019 6:49PM PST
CTV News tried reaching out to Neucel Specialty Cellulose for comment Thursday, but a phone number listed on the company's website was no longer in service and emails were bounced back.
The surprise closure of a long-dormant pulp mill in Port Alice, B.C. may be a result of frosty relations between Canada and China, the town's mayor says.
In a meeting Wednesday, Neucel Specialty Cellulose officials told workers that it was immediately curtailing all activities and laying off the remaining dozen or so workers there.
"They were verbally told that they were expected to leave the work site and that the employers was not going to be able to make payroll this week," said union president Don Vye.
Port Alice Mayor Kevin Cameron said the news appears to be the final nail in the coffin for the mill, and it came as a complete shock.
Though the mill has sat dormant for four years, locals held out hope it would eventually return to operation and create new jobs in the town of just over 800 people.
"It turns out it's not going to be that good, and no one's going down the road except us right now as a community left in the lurch," he told CTV News Thursday.
He said residents are also dismayed that the layoffs came without any warning.
"No one had any knowledge that this would be happening, or even the foresight that this might occur," he said.
The mill was purchased by a China-based company in December 2005 and went on to have a rocky relationship with the community, looking for reduced taxes and union concessions.
Four years ago, it let the bulk of its 400 workers go, hitting the local economy hard and forcing residents to seek employment elsewhere.
"I'm surprised they waited four years to do this," said former worker James Uvanile, one of the hundreds laid off in 2015. "Why didn't they do this four years ago, unless they just wanted to screw everyone on their severance pay, which I kind of believe they're doing."
t's left residents of the small town wondering who will bear the burden of necessary environmental remediation work at the now-shuttered mill.
"There are still residual chemicals on that site, there's contaminated materials on that site, and someone's going to have to make a determination on how to deal with that," said Cameron.
He said he's already been in contact with B.C.'s environment ministry about his concerns.
Cameron believes that the decision is in part due to a strained relationship between China and Canada following the arrest of Meng Wanzhou."
It is amazing that politics between Canada and China as recently as the arrest of Meng Wanzhou could play a part of being the final nail in the coffin for this mill. According to our neighbour at the campsite, whose daughter lives in Port Alice, a Japanese Company is in the process of buying the old mill to convert it into making wood pellets. Fingers crossed this goes through and puts new life in the community.
The drive into Port Alice is about 30 km. Here are some views along the waterfront.
Looking up Quatsino Sound
After lunch Ray and I headed back to camp while the others went on the golf course. It is apparently run by volunteers. The clubhouse has minimal electricity from a generator and you have to use a lantern to go to the bathroom. lol Apparently this was powered by the pulp mill and when it shut down abruptly so did their access to power.
On the way back I stopped so Ray could get a picture of Alice Lake.
It was cloudy when we left this morning and cloudy when we returned ... the rest of the day's drive and Port Alice was really sunny. We do seem to be in a microclimate here that makes it much cloudier than the communities around us. It was Kristi and Jason's turn to cook dinner tonight, parmesan chicken with mashed potatoes. Another great dinner.
At 10:30pm Kristi's friends Ross and wife Layla arrived after work in Campbell River. We kept their dog Nyx and Kristi's dogs with Freya in the MH until they had pitched their tent behind our MH and then all the dogs went home. We will catch up with them tomorrow.
Saturday morning woke up to clouds again. After coffee and Carolan's, dishes and blogging we headed out with Nadine and Dale to have lunch in Port Hardy and tour through the little community of Fort Rupert. Jason remained behind on dog duty and Kristi, with Ross and Layla heading out to do the San Josef trail to the west coast. Kristi and Jason did this before ,but not Ross and Layla.
After lunch at the Market Street Cafe with Dale and Nadine and of course we bought a second loaf of their awesome bread. We then headed down to the Village of Fort Rupert and Storey's Beach.

What a beach they have, a total surprise to us! It's a great spot to run the dogs with miles of beach. Lots of evidence of great clamming there as well. A good spot to go back to next year for a picnic. We stopped at a few different entrances to the beach. Other than a couple with their 2 kids there was no one else on the beach.
Looking right.
Looking left.
The Rotary Park has picnic tables and a shelter for groups with at this end of the beach.
Nadine taking her pictures with Dale
We followed down the road further from Storey's Beach and found the Village of Fort Rupert.
.
Tsaxis (Fort Rupert)
The Big House at Tsaxis, designed by Tony Hunt.
Fort Rupert was and still is an historic Kwagu'ł (Kwakiutl) village by the name of Tsaxis with evidence of occupation reaching back as far as 6000 years before the present. Coal was discovered in the adjacent area in 1849 and the Hudson's Bay Company made the decision to open a coal mine and build a fort the same year. The supply of coal in the area was short-lived and overtaken by new fields developed at Nanaimo. Although the fort was initially built to protect the coal mining operation, it immediately became the hub of colonial activity along the central coast of British Columbia and northern Vancouver Island. It remained an important post for trade and resupply for the remainder of the 19
th
Century.
A catastrophic episode occurred at the village in 1865. Captain Nicholas Edward Brooke Turnour, commanding the British Navy's steam corvette
Clio
, arrived at the Fort to demand the surrender of three Fort Rupert Kwagu'ł
charged with murdering an a man from Nawitti. After issuing a number of ultimatums, the Navy ship shelled the adjacent village, often referred to as
Ku-Kultz
, destroying a large section of it, in addition to about 60 canoes. According to anthropologst Johan Adrian Jacobsen, there in 1881, the Navy attack severely impacted the village and its inhabitants. Many moved across the strait to the inlets of the mainland, while another 250 to 300 returned and rebuilt the devastated village. (Gough, 1984: 82-84).
See the old canon between the two poles. Probably from the conflict mentioned above in 1865. This canon's date is 1853. These are in front of the Big House.
They have a beautiful cemetery.
Down on the beach there was a canoe at anchor and one on the beach and this sign.
My picture ...
Ray's picture lol
They had a beautiful daycare/preschool building all painted in native artistry as well as some other nearby poles.
A lovely little walk about. Back home by 3:30 pm and we all waited for Kristi and crew to arrive from the hike from Cape Scott National park. They cut it close arriving at 5:30 pm when dinner at the Bistro was at 6 pm. They had a great day but of course did not take any pictures .... hence the google picture. below. lol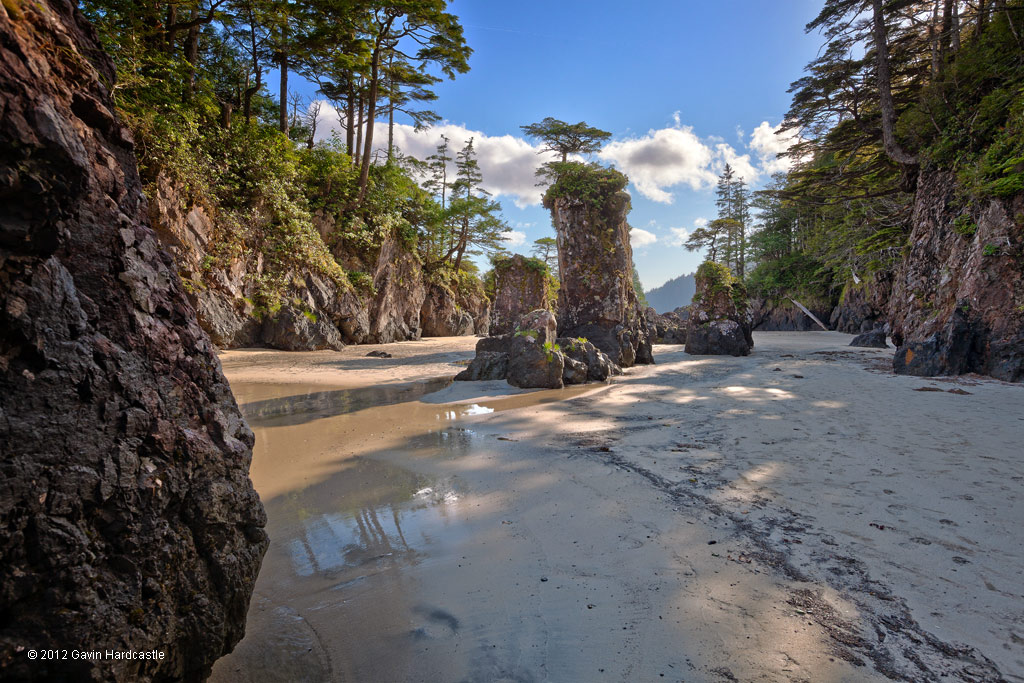 Picture by Google.
Picture by Google
An excerpt from Trip Advisor "
This is an amazing all day adventure from Port Hardy to a vast vacant 2 kilometre beach complete with caves, tidal pools and sea stacks to explore!"
For our last night together we had dinner at the bistro. It was delicious as always and thanks Nadine and Dale for picking up our tab. Same table as Wednesday and mostly the same bunch of us. lol
Ray, Dale, Ross, Layla, Jason, Kristi, Nadine.
After dinner Jason and I started a fire while the others walked the dogs and then we all sat out for a short while before calling it a night. The dogs sure get along well. All drinking from the same bowl.
Nyx, Zeus, Freya and Gizmo the ninja, who just darts in and out! lol
Everyone left on Sunday morning except us. We are here one more night before heading to Campbell River. This has been a wonderful family campout and hopefully we can do it all again next year. The weather for the north island has been spectacular, fairly warm and very little rain. Fortunately the predicted showers for today held off for everyone to pack up for their trip home to Nanaimo and Victoria.