Tuesday, November 7th
Luckily no showers overnight. Most of the pack up was done so we were up the hill from the beach to the sani-dump bright and early to miss the rush. On Highway 89 by 8:19 am. A very cloudy morning so just as well it is a travel day. Made good time heading towards Cameron. We would have liked to stop at Horseshoe Bend, but with a longer travel day and Ray's back quite sore we bypassed it for this year. Dianne and Steve had planned to stop on the way down after getting fuel. The road between Gap and Cameron was extremely bumpy. Between Bitter Springs and Gap in February 2013 they had a 150 foot stretch of road wash out a couple of months after we passed through the area. It took them 2 years to fix it.
Highway 89 washout February 2013
They actually had to take down the mountain and use material to make a new road.
Ray and I made good time and only stopped once at a rest area for a stretch and to walk Freya. We were set up in our spot at Dead Horse Ranch by noon. After a a minimal setup we decided to have lunch at Georgie's Cafe a short distance away from the park. We had had such good food there 2 years ago so we decided to go again. Both Ray and I had one of the specials offered which was fried chicken with 2 sides, all for $7.99.
A great meal
Had happy hour with Dianne and Steve and called it an early night as it was a longer drive that we like to do.
Wednesday, November 8th
Dianne and I went to town to restock our larder's as there is a Walmart, Fry's and Safeway here in Cottonwood. The boys worked on their pictures. After lunch Ray and I drove Dianne and Steve out to check out the secret boondocking spot near Sedona that we would move to on Friday. Steve was satisfied that we were not driving on too much gravel and the area was going to be great for quading.
Tonight we had a fire and I cooked ours and their steaks over charcoal. I threw in some potatoes to bake and we had fried breaded zucchini as well. I put Dianne in charge of cooking the bacon bits and mushrooms and, as I could not fit my pan on the grill to cook the zucchini, she did that too. The steak turned out beautiful, moist and tender.
Picture by Steve
We enjoyed our meal as the sun was setting by the campfire. After dinner Dianne brought out dessert ... Carolann shooters. All of us sat outside until the fire died down and then it was inside for the rest of the evening.
Another beautiful Arizona sunset.
Thursday, November 9th
Woke up and had a somewhat relaxed morning. Then I was busy. Ray had a few more things he wanted me to pick up in town, needed to fuel up the car etc. in preparation for leaving tomorrow. Back from shopping at noon. I had made Freya a vet appointment for 3 pm this afternoon as she is having some trouble with her "poop shoot".
Those of you that have dogs ... keep reading. Those of you that do not probably just go to the next section. lol :)
Freya's anal glands I suspected needed to be expressed. Since she has never had this problem before I thought it best to have it checked out at a vet's. It turned out I was right. She was full but also had one gland infected so that would require pain and anti-inflammatory medication as well as antibiotics. They had assured me that the appointment would not take very long ... as we had the Blazing M Dinner Show booked for 5 pm. Well like any other doctor for human or pet I did not get out of there until 4 pm and then had to go to Walmart to take in Freya's prescription for antibiotics. Who knew you could get your pets prescriptions filled there. The vet did give me her anti-inflammatory so that bill came to $100 with the visit. She also told me that the antibiotics from them would be around $80 and it was much cheaper at Walmart ... I'll say, I paid $26 for a weeks prescription at Walmart.
Unfortunately, Walmart had a 3 hour wait to get your prescription ... so I would have to go back and get it tomorrow while Ray moves the coach to our boondocking spot. Drove back to camp and arrived at 4:45 in a big hurry to get dressed. Ray quickly walked Freya and off we went to get to the Blazing M by 5 pm. You really did not need to get there that early but they only have a few chairs with backs in their auditorium, the rest of the seats are benches which would not do for Ray so coming early ensured we had a better spot for him to sit. Once we were there, Ray kindly bought me a prickly pear margarita so I could "wash away" my stressed out afternoon. It was delicious.
Ray ordering me my margarita.
The saloon
The Blazing M Ranch history:
On the banks of the Verde River sits the historic BLAZIN' M RANCH Originally settled as a dairy and cattle ranch in the late 1800's, the ranch was purchased by Chuck Mabery in 1966. The Mabery family dabbled in cattle for some time, but eventually took up the growing and selling of organic vegetables. However, the worst flood in a century struck the Verde Valley in 1993, and most of the cultivated land on the Mabery Ranch was washed away. Determined to overcome the adversity, the family turned to their musical talents and created the Blazin' M Ranch, home of a one-of-a-kind award-winning western stage show and chuckwagon supper. The frontier western town was constructed in that same year under the direction of Doug Wright, a schoolmate and close family friend. Many of the building materials were recycled from Hollywood movie sets that Doug had helped construct. In 1994 the Ranch opened with a chuckwagon-style dinner and live western stage show featuring the Blazin' M Cowboys. While most of the original band members have since retired, their love of cowboy music and wild west humor has endured to become a Blazin' M staple. The Ranch underwent extensive upgrades in the autumn of 2010, introducing exclusive merchandise in brand new shops, additional activities, enhancements to the museum, and the opening of the full-service Copper Spur Saloon and Spirited Stirrup barn bar. The menu was updated with southwestern signature dishes, and the Cowboys refreshed their act with new music and a unique twist on cowboy humor.
We walked around their little Western Village. Very cute. Lots of touristy stuff to buy, but we didn't.
Ray and I decided to take a ride on their vintage wagon with drinks in hand. It takes you around the farm and introduces you to the animals.
"Y'all ready?"
A 1940's John Deere tractor powers the wagon ride for a spin around the ranch, including a spooky tour of the haunted forest that the Ghost Rider called home. Enjoy the signature sound of the tractor as it pulls you around the ranch and through history, past century-old, sunbaked, rusted farm equipment, reminders of an era when the horsepower of a farmer's equipment was measured by the number of horses pulling it across the ground.
When we first arrived there were not very many people, but by 5:30 pm, two bus tours arrived which certainly made a difference. Glad we had taken the tractor ride earlier. As you did not sit down for dinner until about 6:15, Ray and I sat on a lovely bench watching all the people. They get you to walk into another room to get your plate served up. Even though we were the last section to go and get our dinner, there was lots of food and surprisingly they came around with platters of extra ribs and chicken in case you did not get enough. Serving time was very quick, they certainly have it down to a fine art. Food was good, dessert was apple crisp with ice cream and you had unlimited lemonade, ice tea or water. They had a bar for "adult beverages" so Ray and I enjoyed a very large glass of red wine. They certainly do not skimp in portions. We enjoyed meeting people at our table. The lady across from us from Delaware, had never met a Canadian before! There was another couple from Ontario who full-time as well.
The wait staff are the same kids that man the stores in their western village so everyone does double duty. I was impressed that the lady that checked us in, was also one of the Blazing M Cowboy singers and she came up to us in the food line and made sure that Ray's seat was acceptable to him. Wow such service.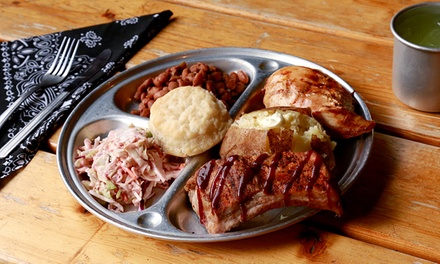 This is what you get for dinner, Ribs and Chicken
After everyone's dishes had been collected the Western Show began and it was full of jokes, funny songs, good old western songs and yodelling. A good hour and a half entertainment. Well worth the cost of admission. At the end of the program they sang "Ghost Rider" and had flashing lights outside the windows and a horse and rider galloped back and forth around the building. Pretty exciting.
Back home at 9:00 pm. We went straight to bed. Ray's back was quite sore with sitting so long but it was worth it for the experience. Tomorrow we are off to the Sedona area, only a 20 minute drive up the road so not a very long travel day. I also had to go back to Walmart to pick up Freya's antibiotics. Hopefully she is feeling better soon.
Friday, November 10th
Up early, Ray took off in the car to get a morning sunrise shot of Tuzigoot. The ruins are a short distance away from Dead Horse Ranch State Park.
The Verde River
Looking over the Verde River to Tuzigoot.
Looking towards the town of Jerome
After he got back I had most things done and we had the jacks up by 8 am. I headed to Walmart and he headed to our secret boondocking spot after taking on fuel and dumping the tanks. Ready for another adventure with Dianne and Steve.